Restylane®&nbsp is an internationally leading dermal filler product family - all are of natural origin. They are injectable Hyaluronic acid (HA) clear gels, that enhance appearance by restoring the skin's volume, smoothing away wrinkles, enhancing and shaping lips, defining facial contours and revitalizing the quality of the skin. HA's are found naturally in our bodies and they bind to water, so enhancing skins elasticity and volume.

The Restylane range of dermal fillers are now one of the world's most tried, tested and documented range of hyaluronic acid fillers and have been on the market for more than 21 years. Restylane was the first hyaluronic acid-based filler to receive Federal Drugs Agency (FDA) approval, and over 11 million Restylane injectable treatments have been carried out worldwide.
Restylane is regarded within the aesthetic industry as the benchmark of proven quality, efficacy and safety.
Restylane Treatment
---
Restylane dermal filler is specifically designed to soften, and so reduce, the appearance of moderate facial wrinkles and folds by joining forces with your bodies own hyaluronic acid, improving areas such as:
---

nose to mouth lines

---

smile lines

---

marionette lines at the corners of the mouth

---

and also the deeper glabella lines (frown lines)

---
Restylane is available with the addition of Lidocaine which provides a far more comfortable treatment experience.
Treatment times vary, but on average range from 20-30 minutes, results are instant and there is minimal post treatment downtime. There is no allergy/skin testing necessary with the Restylane range as they are of natural origin.
What can be treated with the Restylane range of products?
---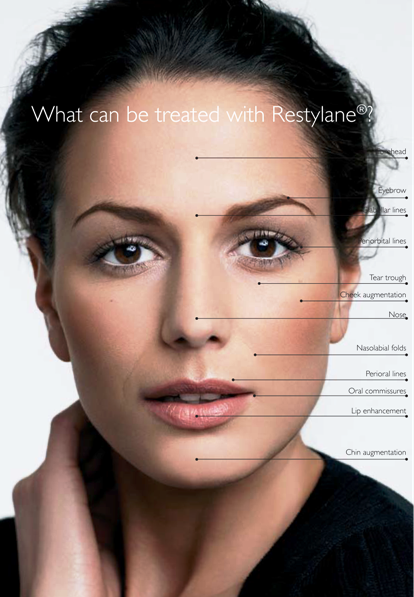 Upper Face

---
Frown lines
Glabellar lines
Eye brow
Middle face
Periorbital lines
Tear troughs
Nose & nasal bridge
Cheek augmentation
Lower Face

---
Nasolabial folds
Perioral lines
Vermilion border
Smile lines
Oral commissures
Lip enhancement
Chin augmentation
Skin Rejuvenation

---
Face
Neck
Décolletage
Hands
ENHANCED & SCULPTED CHEEKS&nbsp with Restylane fillers
---
At Karen Lockett Clinics we specialise in the sculpting of the cheek area, as we view the loss of volume in the mid face to contribute greatly to the many effects that aging has upon the face. Our philosophy is, that by treating the cause of the problem (sagging, deflated cheeks), rather than their effect (deep nose to mouth lines and a jowly appearance), we are reinstating what nature has, over time, diminished. This allows us to achieve a far more natural look for our clients.
This is an ideal treatment for those patients who feel facelift surgery, or the insertion of permanent cheek implants, is unnecessary, or a step too far for them at this time.
The Restylane Dermal Filler Range
---
Restylane Lyft™

Restylane Lyft is a powerful tool for the shaping of facial contours such as minor to moderate contouring of the cheek or jaw line, along with giving support to mouth corners to treat a 'sad' downturned look to the mouth.

Restylane Lyft is also ideal for accentuating existing positive facial features.

---

Restylane Defyne™

Restylane Defyne is designed for volumetric contouring of facial features, providing facial fullness and restoring symmetry.

Restylane Defyne dermal filler treatment is recommended for:

1.&nbsp the loss of mid face/cheek area fullness through weight loss

---

2.&nbsp the loss of mid face volume experienced through the general ageing process

---

3.&nbsp a more defined cheekbone

---

Restylane Kysse™

Restylane Kysse is a dedicated lip filler, structured to withstand the strains associated with the full range of oral movements, it provides lip enhancement over an extended period of time.

Further information on Restylane Kysse can be found on our Lip Fillers page.
Restylane Treatment Cost
---
The price for a Restylane dermal filler treatment is from £300, dependent on what we are looking to achieve. Please see our Price Guide for further information.
Please do get in touch if you require further information, or,
if you would like to arrange a free consultation with Karen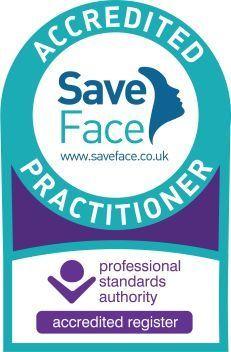 The Sign of Safe Non-Surgical Cosmetic Treatments