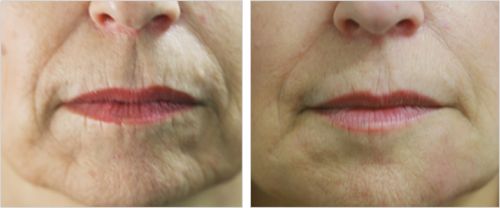 Lip Lines Around Mouth
Upper lip lines, or wrinkles around the mouth, can present as singular or multiple lines - many of us are familiar with the problem of bleeding lipstick. Upper lip lines or wrinkles, those that radiate upwards from the top lip are sometimes referred to as Smoker's Lines, although many people who develop these lines may have never smoked: they can occur due to a genetic predisposition, or possibly, excessive sun and environmental damage.
How to get rid of fine lines and wrinkles around the mouth?
---
We can treat lip lines and wrinkles with a variety of products, dependant on their appearance. In most cases we choose a specialised &nbspDermal Lip Filler&nbsp tailored for the area around the lip such as Restylane Kysse™. With all our mouth wrinkle or upper lip line treatments, we aim to achieve a natural, soft look, whilst providing the lip and mouth area with support, shape and volume if required.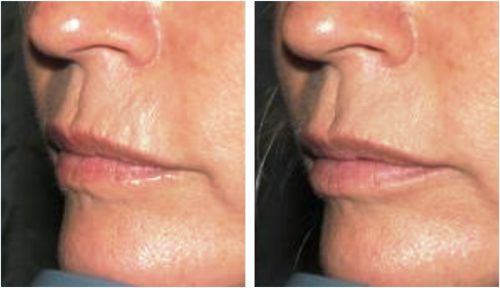 Upper Lip Lines
The Dermal Lip Fillers we use in clinic are Juvederm Volbella®, Teosyal Kiss® or Restylane Kysse™.
For finer mouth lines above the lip, or for skin rejuvenation in this area, we prefer a softer treatment using 'Skin Boosters', such as Restylane Vital® or Restylane Vital Light®.
We can also treat this area with Thread Lifts, which can deliver lifted, natural results, but are minimally invasive. They are carried out in clinic with almost no down time save the possibility of some minor bruising - please see our dedicated PDO Thread Lift page.
Mouth Line & Wrinkle Treatment Cost
---
A lip filler treatment cost is from £200. A free consultation to establish what is required to achieve the desired result, will provide an actual treatment price.
Our Pricing Page also has a complete list of treatment prices.
* In clinic we now offer most &nbspDermal Filler Treatments &nbspusing cannulas.
This is a new method of treatment suitable for the majority of facial treatments, at no extra cost. Our expertise in this procedure offers clients a very minimal amount of swelling and typically no bruising following treatments; this allows clients to be able to carry on with their everyday lives, negating the requirement of extended 'down time'.
---
Please do get in touch to arrange a free consultation...
---