It is not only the face and neck that can reveal the true age of a woman: the hands can also. The skin becomes thinner and less elastic as we age, and as a result, small wrinkles form.

Hand Wrinkles
Before and After Treatment
The blood vessels can also become more obvious as we lose volume from the backs of our hands as we age.
Our hands are very often exposed to the weather
without any protection, which can also make the skin look older than it actually is.
How to get rid of hand lines and wrinkles
---
To provide a fresh, youthful appearance, with a more harmonious, balanced appearance, smooth, pretty hands are indispensable...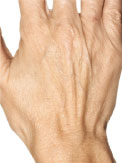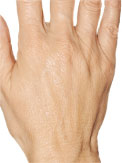 Hand Lines
This is particularly so when treatments for facial wrinkles, lack of facial volume and facial/neck laxity etc. have already been carried out (or if they are planned).
A dermal filler is an ideal anti-aging treatment for the hands as it adds volume, softening and removing those tell-tale lines and wrinkles.
Hand rejuvenation procedures, with an innovative dermal filler such as Radiesse®, will complete the overall picture of a more youthful appearance.
Radiesse® is Karen's treatment of choice for the revitalisation of hands. The results are instant, and will last for approximately 12 months.
Hand Wrinkle Reduction Treatment Cost
---
The cost of hand rejuvenation is from £350
Please do get in touch to arrange a free consultation...
---