Karen has been helping her clients look their best with non-surgical cosmetic treatments such as anti-wrinkle, lip filler and dermal filler injection treatments, since establishing Karen Lockett Clinics in 2000.
When Caroline, the owner of Cwmbran Laser & Skin Clinic was searching for a specialist cosmetic injection practitioner for her skin treatment clinic, she had already heard about Karen, and her impressive reputation within the field of non-surgical aesthetic treatments. This, supported by recommendations from some of Caroline's existing clients, who had already received cosmetic treatments with Karen, made Karen the number one choice.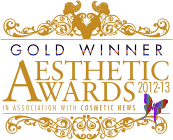 Cwmbran Laser & Skin Clinic's values: wanting the very best for their clients, delivered with a caring and a friendly approach. These are the same values held by Karen Lockett Clinics, so, after a short 'trial period', both Caroline and her clients were impressed with the treatment results being achieved - it was a good match, and so, our Cwmbran clinic was established ....
Karen is one of the most experienced aethetic practitioners, not only in South Wales, but the UK as a whole, with over three years served as a national trainer in dermal filler techniques, a previous career within the field of cosmetic surgery, and over 21 years carrying out non-surgical cosmetic treatments.
In recognition of her achievements, Karen was honored to win Gold at the Cosmetic News, Aesthetic Awards in 2013.
Karen's approach is professional, friendly, and to give honest advice: she will always look for a natural result, recommending the best treatment in order to achieve this - even if that is no treatment ...
---
CWMBRAN Cosmetic Skin Clinic -
TREATMENTS available
---
Anti-wrinkle Treatments
Dermal Fillers
Lip Fillers
Thread Lifts
Skin Boosters
Hyperhidrosis
Micro-needling
Skin Treatments
Chemical Peel
Microsclerotherapy
---
CWMBRAN Cosmetic Skin Clinic -
LOCATION
---
Our Cwmbran clinic is found on the southern outskirts of Cwmbran, with convenient parking either at the front of the clinic, or at a near-by free car park. Being just a 7 minute drive from both junctions J26 and J25A of the M4, the clinic is very convenient for the towns in the South East Wales region, as well as Torfaen itself ...
Karen Lockett Clinics @ Cwmbran Laser & Skin Clinic
The Surgery
223 Llantarnam Road
Cwmbran
Torfaen
NP44 3BG
---
CWMBRAN Cosmetic Skin Clinic -
CONTACT
---
For further information, arranging a consultation or an appointment, please use our:
Or if you prefer, please feel free to use any of the contact methods below:
| | |
| --- | --- |
| email: | kl@klclinics.co.uk |
| telephone: | 0800 019 3355 |
| | 01291 690 128 |
---
Our office open hours are:
| | |
| --- | --- |
| Monday to Friday | 09:00am - 19:30pm |
| Saturday | 10:00am - 14:30pm |
| Sunday | Closed, sorry |
---
The Cwmbran clinic open hours are*:
| | |
| --- | --- |
| Monday to Tuesday | 12:00pm - 18:00pm |
| Wednesday to Friday | 12:00pm - 20:00pm |
| Saturday | 10:00am - 16:00pm |
| Sunday | Closed, sorry |
| Cwmbran clinic telephone: | 01633 877 779 |
---
* In order to personally carry out consultations and treatments, Karen moves between
our various clinics: please get in touch, to find out when she is in your preferred clinic
---
CWMBRAN Cosmetic Skin Clinic -
CONSULTATION & TREATMENT
---
It is important to us that our clients receive the very best: it will always, and only be Karen herself, who conducts your initial consultation; who will prescribe and expertly administer your treatment; who will carry out any post-treatment follow-up. This ensures continuity of care is always maintained.
Please feel free to get in touch - we look forward to hearing from you.
---