Forehead Lines are the horizontal lines that appear between the eyebrows and the hairline (see photo, below left).
Frown lines, or Glabella lines as they are also known, are the vertical lines that appear between the brows and the horizontal lines that form above the bridge of the nose (see photo, below right).
For most of us frowning is a natural movement, it is just something we do occasionally throughout the day. We generally frown when we're doing something that requires lots of concentration such as driving or reading; and also when we're angry or upset.

Frown | Glabella Line Treatment
with
BOTOX

®
- Before and After Treatment
Over time we can develop frown lines in the upper part of the face because of constant muscular contractions. This constant muscular activity and folding of the skin in the same area causes damage to the skin, forming lines and creases. Depending on the individual, some people will have deeper frown lines than others. Many of our clients with deep frowns complain of appearing older than their years; or, having a worried or grumpy expression, when they are actually feeling fine.
How to get rid of Forehead lines and Glabella | Frown lines and wrinkles?
---
Throughout the time that we have been practicing, we have found that the most effective treatment for frown lines is to treat with Anti-wrinkle injections, such as Botox®,&nbsp Vistabel® or &nbspDysport®

Forehead Line Treatment
An Anti-wrinkle injection can accurately pinpoint and relax the muscles that create the frown lines and wrinkles; this is very effective at producing a softer less lined result.
In some cases where the lines were particularly deep we may then recommend, at review two weeks later, further treatment with a filler to help smooth out any remaining lines using a product such as Teosyal®,&nbsp Restylane® or Juvederm®.
Forehead Lines | Frown Line Treatment for Men
---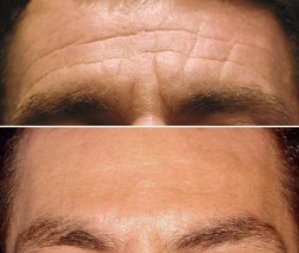 Forehead Line Treatment for Men
Anti-wrinkle Treatment is equally effective at forehead line and frown | glabella line reduction in men.
Men tend to have greater muscle strength than ladies, therefore many clinics charge a premium for treating men; at Karen Lockett Clinics, we do not.
Frown line treatment for men - show more
Forehead Frown and Glabella Line Wrinkle Reduction Treatment Cost
---
Treatment price: from £160 - please see our Price Guide for further information
Please do get in touch to arrange a free consultation...
---