As we age, many begin to notice subtle changes in their facial anatomy. Besides the more obvious areas such as droopy eyes, laugh lines, or thinner lips, they also note changes to the chin area. One such change, can be the development of a dimpled chin.

Chin Dimple Removal
Patient Before and After
BOTOX

®
Treatment
A dimply chin is a condition caused by excessive flexing of the chin muscles. For those with this condition it appears that their chin is bumpy and uneven. This condition is effectively treated with an anti-wrinkle injection, the most well known being Botox®,&nbsp however Vistabel®,&nbsp Dysport®,&nbsp Azzalure®&nbsp and &nbspBocouture®&nbsp are other suitable equivalents. These anti-wrinkle injections relax the chin muscles that cause the uneven appearance.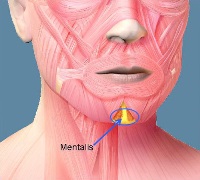 The main muscle in the chin is called the mentalis muscle. Although a very small muscle, hyperactivity of the mentalis muscle makes the chin look very uneven, rough and bumpy. This muscle can become quite strong with repeated contraction, and for some people, it is common to carry a lot of tension in the lower part of the face unconsciously. A repeated and ongoing contraction of the mentalis muscle of the chin leads to a dimpling condition, similar to the texture of an orange peel.
It only requires very small doses of an anti-wrinkle treatment such as Botox®, for relaxation of the muscle to occur; this results in an overall softening of the chin.
Technique is extremely important when determining how many units of Botox® are required for this technique, so make certain that your injection treatment practitioner is knowledgeable about facial anatomy, and is highly experienced within the field of Botox® type injections, before attempting this procedure.
Dimpled Chin Removal Cost
---
As a standalone procedure, the cost of Chin Dimple treatment is £50.
If received at the same time as other anti-wrinkle treatment injections, then Chin Dimple removal will be classed as an 'additional area', thus the cost will only be £25.
Our Price Guide has further information.
Please do get in touch to arrange a free consultation ...
---