Thread veins can develop on the legs as we age, they appear as fine red lines on the leg. Whilst unlikely to cause symptoms or medical problems for the sufferer, these thread veins are often unsightly and can be quite distressing. On the positive side, there is a thread vein treatment available.
The gold standard procedure for the treatment of thread veins on the legs is Microsclerotherapy, more commonly referred to as Sclerotherapy.

Leg Thread Veins
Before and After
Fibrovein™
Treatment
The treatment involves injecting a small amount of sclerosing solution - we favour Fibrovein™ at Karen Lockett Clinics - into the superficial vessel with a very fine needle. The injected solution closes down the veins so that blood cannot flow through the treated vessels, the body then naturally clears the area, and they fade away. The treatment is relatively painfree.
Fibrovein™
---
Fibrovein is a sclerosant licensed for the treatment of thread veins. It has been used for the treatment of thread and varicose veins since 1946. The product was first registered in the UK in 1967 when it was marketed under the name of STD injection. It is currently registered in 18 countries including UK, Ireland, Australia, New Zealand and South Africa.
Fibrovein is manufactured in the UK and complies with all EU regulations.
Doppler Assessment
---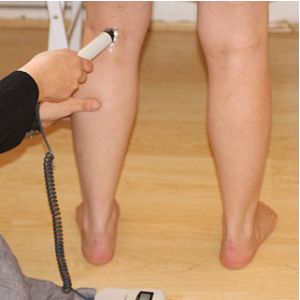 Doppler Evaluation
Assessment of Leg Vessels
At consultation, prior to treatment, a complimentary Doppler evaluation of your venous leg health will be undertaken by Karen. This allows assessment of the deep vessels of the leg, to ensure that the surface vessels are suitable for microsclerotherapy treatment.
Leg Thread Vein -- Post Treatment
---
It is important to the success of Microsclerotherapy that immediately following treatment, medical grade compression stockings must be put on, and must then be worn for approximately 7-10 days following treatment; stockings are ordered at consultation and supplied in clinic.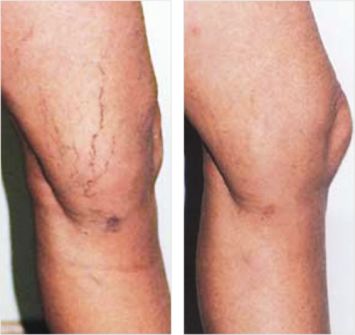 Leg Thread Veins
Before and After
Sclerotherapy
Treatment
That said, most normal activities can be resumed immediately following treatment. All after care is discussed at length during your free consultation.
Clients should note that the areas treated will look worse before they look better, so timing of treatments can be crucial if an improvement is required for a holiday or any other special occasion.
Though there will be an improvement following the first treatment of on average 60-80%, further treatments may be required and these can be carried out at 8-12 weekly intervals. The amount of treatments required is varied and dependant on the severity and amount of thread veins, but 1-4 treatments is the average.
What is the cost of Thread Vein treatment?
---
£250 &nbsp--&nbsp first Sclerotherapy treatment, inclusive of support stockings;
£200 &nbsp--&nbsp follow up Sclerotherapy treatments (using existing support stockings)
---
Please get in touch to arrange a free consulation
---