KAREN founded Karen Lockett Clinics in 2000, which holds aesthetic injection and anti-aging treatment clinics throughout South Wales, West of England and the Midlands. She has also worked and still continues to work as a peripatetic aesthetic nurse practitioner for clinics in Birmingham, Cardiff and Swansea.
She is at the forefront in the use of dermal fillers for soft tissue augmentation with volumetric injection techniques, providing facial sculpting and enhancement, along with wrinkle/line reduction and softening with the cosmetic use of Botulinum Toxin (Botox®).
In 1996 she started her career within the cosmetic, surgical and non surgical medical world, and has had the privilege of working alongside, and continues to work with, some of the leading surgeons and practitioners from the UK and around the world.
Since 1999 she has specialised in non surgical injectable treatments, and has trained to advanced levels. She was recruited to be one of the first trainers for Q-Med, the company which makes Restylane, and travelled around the country for 3 years in this role, training doctors, nurses and dentists in the theory, techniques and practical skills required to administer dermal fillers.
MEDICAL BACKGROUND&nbsp Karen qualified as a registered nurse within the NHS in 1981, she went on to become senior sister in the cardiac intensive care unit at Manchester Royal Infirmary, where she continued her career at the forefront of this speciality for 7 years.
During her extensive nursing career Karen also qualified as an American registered nurse and practised in the United States for 3 years.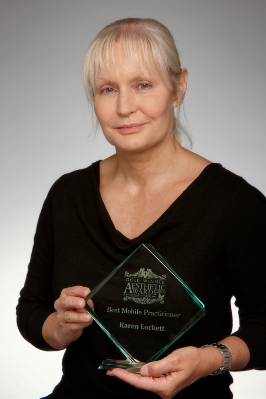 She has gained post graduate qualifications from Cardiff University as an Independent Nurse Prescriber. She is a member of various organisations within the world of aesthetics including The British Association of Cosmetic Nurses and The British Association of Sclerotherapists. Karen holds regular clinics throughout the year providing treatment for cosmetically unsightly leg veins.
AWARD WINNING AESTHETIC PRACTITIONER
In 2013, Karen was honoured to win GOLD at the annual Aesthetic Awards, in association with Cosmetic News magazine, held at The Grand Connaught Rooms in London's Covent Garden.
Following nomination by industry peers, Karen gained a position as a Finalist.
Mystery shoppers then visited the shortlisted finalists, and cast their votes for the best clinic practitioner; this, together with recommended feedback by clients, and also industry colleagues, determined the overall winner.
WE ARE A REGISTERED SAVE FACE CLINIC
---