Lip fillers are a specialised form of dermal filler treatment, developed specifically for lip augmentation and lip enhancement.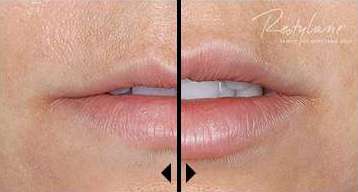 Lip Augmentation
Our preferred approach to the technique of lip filler injections, is to:
---

enhance your natural lip shape

---

to support and improve skin condition

---

produce subtle, soft, natural looking results

---
Lip Fillers -- Treatment
---
Lip filler&nbsp injections within the lip area can produce many enhancements, for instance:
---

providing definition, support and shape to the border of the lips;

---

adding soft volume to thin lips;

---

or perhaps, reinstating volume lost through ageing.

---
Lip fillers can also used to treat fine lines and wrinkles around the mouth area, above and below the lip line.
Please visit our dedicated &nbspLip fillers&nbsp page, for further information on lip filler products and how they can help enhance our natural look.
Lip Filler Treatment Plans
---
Treatment plans are formulated during your in depth consultation.
Karen will usually treat the lip area with extra caution and patience: build, until the desired results are subtly achieved - subsequent treatments can be added, if required.
Are Lip Filler Injection Painful?
---
All the &nbsplip fillers&nbsp that we use in clinic to treat the various areas of the lips contain lidocaine; this allows us to provide a very comfortable lip treatment experience. These products include Restylane Kysse®, Teosyal Kiss®&nbsp and &nbspJuvéderm Volbella®.
Lip Enhancement -- Cost of Treatment
---
Lip filler treatment is priced from £200 - please see our Price Guide which lists all our treatment prices.
Please do get in touch to arrange a free consultation ...
---